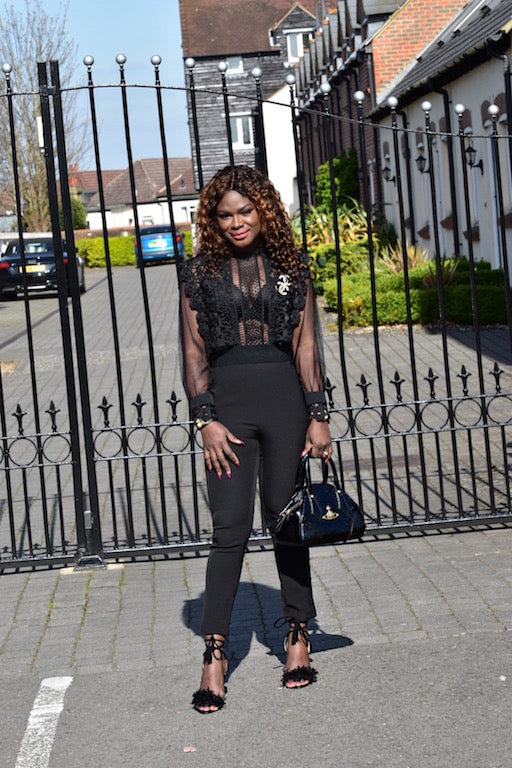 Jumpsuit - How To Rock Jumpsuits Like A Pro
Jumpsuit is our topic of discussion today. So get your pop corn ready,  and stay glued! Hello my loves! I hope you've all had a wonderful week and are enjoying the sun! With the cold weather coming to an end and 

summer

 creeping up on us, I thought what better time to write a post advising you ladies how to style and rock your jumpsuits like a pro! Jumpsuits are so versatile and can be styled to suit any kind of occasion whether it's a casual day out or a night on the town.

 
They're also extremely seasonal and can be adapted to any month of the year to deal with London's unpredictable weather, for example layering with a cosy turtle neck sweater to keep out the cold is a great way to rock a jumpsuit during the winter months. When on the beach you could slip a sheer wide leg jumpsuit over your bikini to grab some lunch, they're a staple piece for holidays and would recommend everyone to pack one in their suitcase when they go away this summer!

 
The key to finding the perfect jumpsuit is to find one that fits your body like a glove; it can be hard when looking for the right jumpsuit as I'm sure most of us differ in size from top to bottom. My key tip to finding a jumpsuit is to look for the same size as you would wear in trouser and work up from there, as it can become unflattering if ill-fitted. Jumpsuits are so simple to put together and are a brilliant and easy all-in-on solution, they can be worn simply on their own with subtle jewellery and strappy sandals, or you can go all out with layering and find a stylish off shoulder top 

styled

 with bold jewellery and high boots. Another one of my favourite layering combos is an oversized shirt with a loose fitted jumpsuit all pulled together with a flattering waist belt. Defining your waist is a must when wearing and flowy jumpsuit as it creates a beautiful silhouette guaranteed to flatter any figure, my go-to belt would be Hermes belt, get yours 

here

.

 
The right jumpsuit can create a striking look beyond what any dress or top and trouser combination can do. There are so many different styles of jumpsuit to match any occasion or suit any figure, choosing the right leg for you is a must whether it be skinny, flared, tapered or even cropped! Complete your look with statement shoes. Other all-in-one styles include the classic utility style dress; boiler suit, a great solution for a dinner date with a statement necklace and belt to enhance your waistline. With denim being the latest trend, I am totally feeling dungarees for a summer festival look, try pairing with an off shoulder top with floaty sleeves and some oversized sunglasses.

 
 

 For work, style your jumpsuit like a business woman; opt for a sophisticated cut tapered leg and pair with a tailored blazer to look professional. Release your inner animal and choose a leopard print for a summery vibe, pair with a leather jacket. I love a fitted jumpsuit for a night out, glammed up with suede pumps and a distressed denim jacket. My love for jumpsuits has led to me adding some beautiful pieces to my collection; I designed all my pieces specifically to flatter all different body shapes, they're all made from quality thick bandage material. Figure 1: This limited edition hand embellished jumpsuit is now available to order.

 
 

 Available on my website now. Order , 

HERE

. There are many other jumpsuit  styles to choose from on the 

site

 I hope this post has inspired you to rock a jumpsuit, and  I can't wait to see how you style it. As usual here are some other post you may like to read: 

here

 , 

here

 and 

here

 Thank you as always for reading, and I wish you all a fabulous week! Thanks Ivy