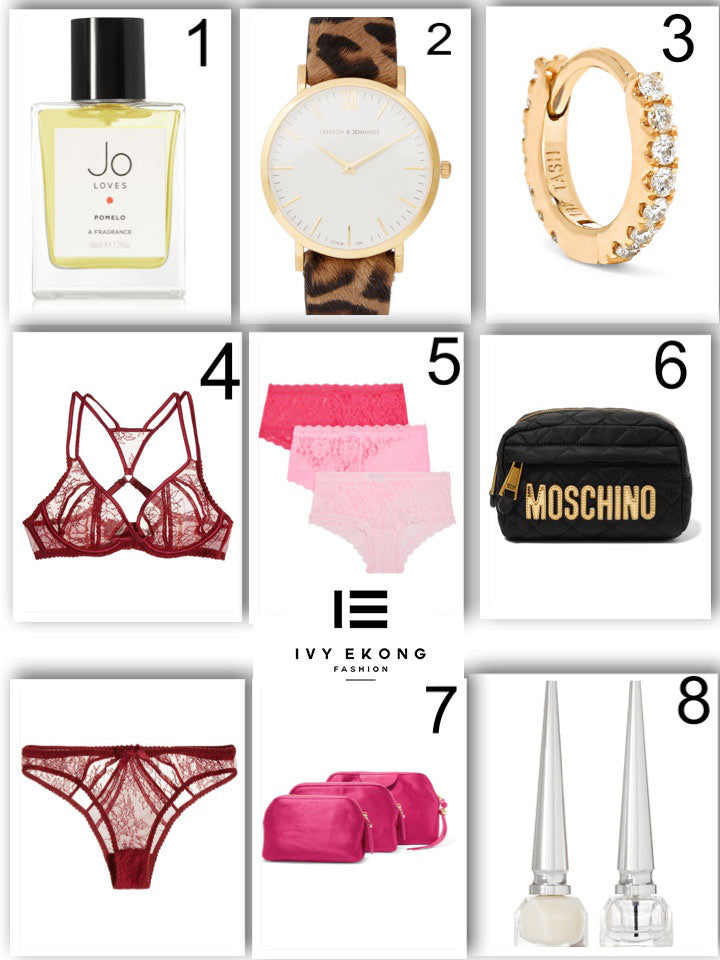 Valentine's Day Gift Guide for Her & Him
alentine's day is just a few days away. Like every year I try to sort for the best and cost effective valentine's present for you guys and for my loved ones too. It's always tricky shopping for that special someone you want to impress, so I've rounded up my top 10 valentine gifting picks for her and him in today's post!
I hope it's not coming late, I am a last-minute shopper, so I haven't bought anything for my love yet. I actually got a lot of ideas from this post which I will use a guide when shopping my valentine's present for my hubby.  Single or not, Valentine's day is about showing our loved ones how much they mean to us. So, whether it's your special someone, sister, mom, or best friend, get a little something to show them how much you appreciate having them in your life! I love the idea of making gift baskets with some fun and reusable items such as the ones I've included below. My bestie gave me a present like this late year and I absolutely was thrilled by it. Gift's like these have yet to fail! And from experience they are the best kind of gift to give. Our traditional way of gifting on valentine's day is pretty obvious. Give your loved ones something he or she isn't expecting and they will be blown away. So, this year when buying a valentine's present for that special someone, let's think outside the box, and buy more of modern gift than traditional valentine presents.
For Her 1) Joe love perfume : https://www.net-a-porter.com/gb/en/product/774262/jo_loves/pomelo---pink-pomelo---rose-vetiver--50ml 2) Larssson & Jennings wrist watch : https://www.net-a-porter.com/gb/en/product/832891/larsson___jennings/lugano-leopard-print-calf-hair-and-gold-plated-watch 3) Maria Tash Mini 18-karat gold diamond earing : https://www.net-a-porter.com/gb/en/product/835777/maria_tash/mini-18-karat-gold-diamond-earring 4. Agent Provocateur Marcia cutout Leavers lace and stretch-tulle underwired bra and pant; https://www.net-a-porter.com/gb/en/product/713293/agent_provocateur/marcia-cutout-leavers-lace-and-stretch-tulle-underwired-bra Pant here ; https://www.net-a-porter.com/gb/en/product/713294/agent_provocateur/marcia-cutout-leavers-lace-and-stretch-tulle-briefs 5 – Hanky Panky signature set of three stretch-lace boy shorts;  https://www.net-a-porter.com/gb/en/product/486911 6- Moschino metallic faux leather-trimmed quilted shell cosmetics case; https://www.net-a-porter.com/gb/en/product/818288/moschino/metallic-faux-leather-trimmed-quilted-shell-cosmetics-case 7- Diane von Furstenberg set of three satin pouches; https://www.net-a-porter.com/gb/en/product/801041/diane_von_furstenberg/set-of-three-satin-pouches 8- Christian Louboutin Loubi Nail Primer and Loubi Nail Gloss; https://www.net-a-porter.com/gb/en/product/664653/christian_louboutin_beauty/loubi-nail-primer-and-loubi-nail-gloss
 9
– Artis Brush Fluenta 9 Brush Set ; https://www.net-a-porter.com/gb/en/product/903576/artis_brush/fluenta-9-brush-set 10- Charlotte Tilbury makeup set ; https://www.net-a-porter.com/gb/en/product/873786/charlotte_tilbury/quick--n--easy-the-red-carpet-party-look 11- Eyeko Mini Eye Wardrobe; https://www.net-a-porter.com/gb/en/product/820520/eyeko/mini-eye-wardrobe 12 – Eyeko Mascara wardrobe; https://www.net-a-porter.com/gb/en/product/820517/eyeko/mascara-wardrobe 13- Wander beauty lip set; https://www.net-a-porter.com/gb/en/product/844743/wander_beauty/prone-to-wander-kit 14 - Nail poloish set; https://www.net-a-porter.com/gb/en/product/838745/deborah_lippmann/purple-rain-nail-polish-set 15- Maison Francis Kurkdjian wardrobe perfume set; https://www.net-a-porter.com/gb/en/product/875924/maison_francis_kurkdjian/the-fragrance-wardrobe---discovery-collection-for-her--8-x-11ml 16- Tata Harper multi masking facial mask; https://www.net-a-porter.com/gb/en/product/839120/tata_harper/the-multi-masking-collection
For Men Armani Jeans Leather Wallet;  http://www.asos.com/armani-jeans/armani-jeans-leather-wallet-in-black/prd/7644553?iid=7644553&clr=Black&cid=4210&pgesize=36&pge=0&totalstyles=683&gridsize=3&gridrow=2&gridcolumn=1 2 - Berluti Deux Jours Polished-Leather Briefcase ; https://www.mrporter.com/en-gb/mens/berluti/deux-jours-polished-leather-briefcase/785731 3 - Braun Rubber And Stainless Steel Watch ; https://www.mrporter.com/en-gb/mens/braun/bn0095-rubber-and-stainless-steel-watch/709753 4 - Oliva Peoples sunglasses ; https://www.mrporter.com/en-gb/mens/oliver_peoples/elias-round-frame-matte-aluminium-and-tortoiseshell-acetate-sunglasses/828307 5 - Avaro leather back pack; https://www.mrporter.com/en-gb/mens/alvaro/gaape-leather-backpack/834977 6 - Gucci Dive 40mm Stainless Steel And Rubber Watch; https://www.mrporter.com/en-gb/mens/gucci/dive-40mm-stainless-steel-and-rubber-watch/818546 Happy Valentine's day to you all. Ivy Ekong