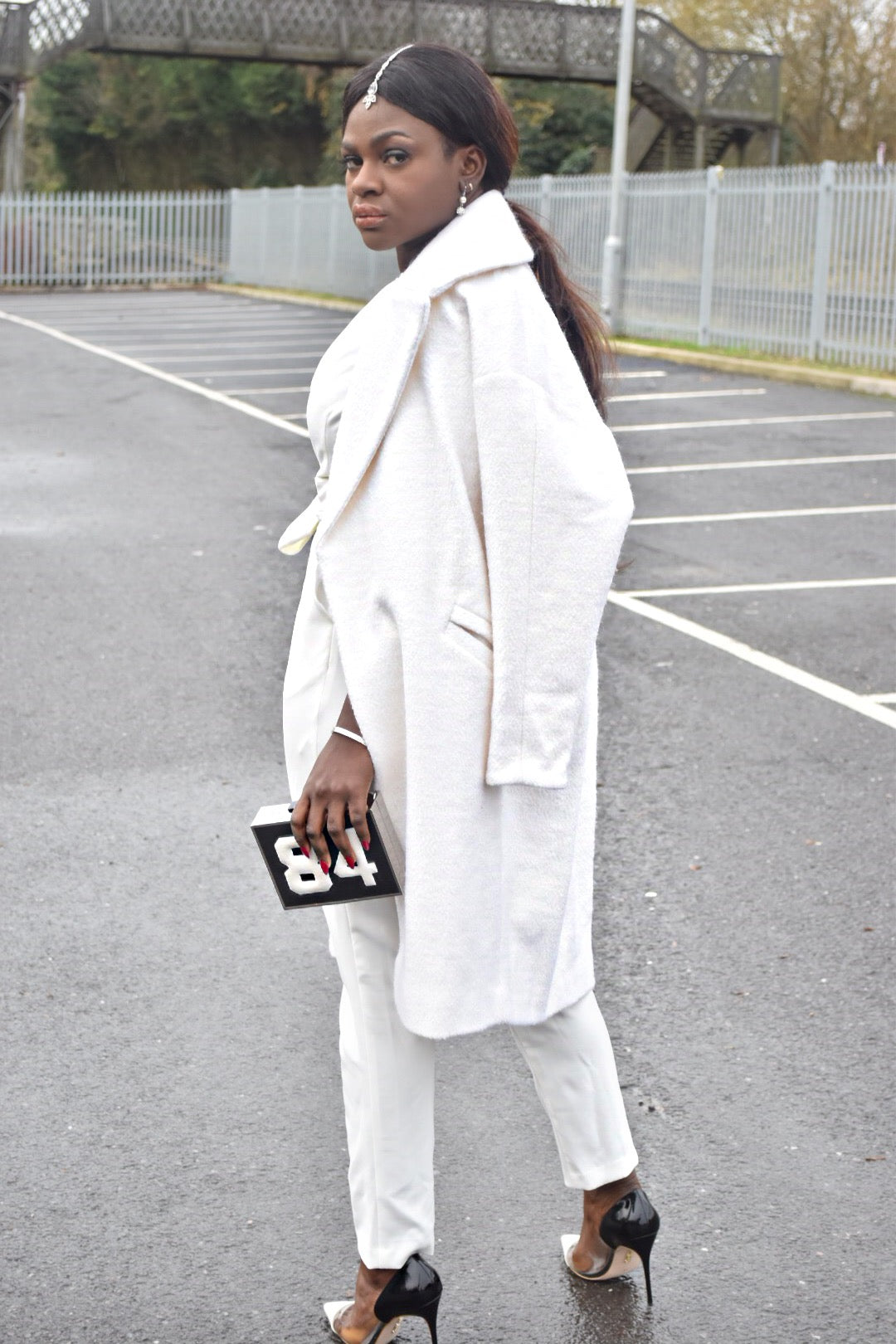 Winter Whites
Sometimes the winter colour palette can be a bit like the weather – a little dull and muted. One trend that is all about being bright and shining is the winter whites trend and it is one that works particularly well with African skin tones and considerably other skin tones as well.
 The key with the winter whites trend is to get the right white. This may sound a little weird for a colour that is essentially a lack of a colour but there are different shades of whites. As an personal stylist some of my clients do get confused by this, so you're not alone. Sometimes white can be a flat shade that looks like a sheet of paper. Or a very bright sparkling or crispy white. The winter whites are bright and shining and often use texture and different materials to do this. Adding the right accessories also helps to perfect the look. 
 A lot of you know me and I have met some of my followers personally. Am sure by now you all know that I am a huge fan of jewelleries. I don't wear one but loads. Wearing just one jewellery is boring for me. My jewellery motto is "wear loads or go home" (Lol). I have accessorized this outfit with a pearl and crystal neckpiece which is from my jewellery line. You can purchase yours at IconMode. They sell out pretty fast. So hurry! 
 If you look at the black fashion blogs in London, the winter whites are all around. They are also popular around the globe for those cities that are enjoying their summer to our winter. Which means that if you are planning to get some sun in winter, those winter whites will also travel well. Think of that beautiful white lace applique dress that has appeared in many variations on different celebrities and bloggers recently – it works just as well with a beautiful cape coat at the Christmas party as well as at the beachside bar. Those lacy dresses are a great place to start when shopping for your winter white outfits. Because they are easier to style. ASOS seems to have embraced the trend full on and have a beautiful collection to suit all styles. There are baroque style, full lacy sleeves, cold shoulder styles and several gorgeous bodycon styles and jumpsuits. You could layer your whites perfectly with a cape coat or even a cropped jacket such as the Zenah Jacquard jacket from Ted Baker. This jacket has a round neck that would work well with the high neck of the dress as well as other styles and a metallic zip fastening breaks up the white. For something of a longer length, the Stone Faux Wool Funnel Coat from Wallis is a single breasted style that can work with dresses but also dress down to jeans and boots. 
 Accessories are also crucial to finishing your style and for the bag, a simple clutch may be the answer. The Perforated Fold Over Clutch from Karen Millen creates the patterned look with a perforated style and is a simply flap over clutch to hold those essentials. You can even contrast the white look with a black handbag if you have a favourite you cannot bear to go out without just as I have done. My clutch bag is from Zara. Your choice of footwear depends on how you want to finish the look. Top looks to opt for include heeled pumps as well as ankle boots while a smooth leather look style with a four or five-inch heel will work well with any length dress. My outfit is from Asos My heels: houseofcb Clutch bag: Zara Jewellery: IconMode Have a lovely weekend you all. Love Ivy