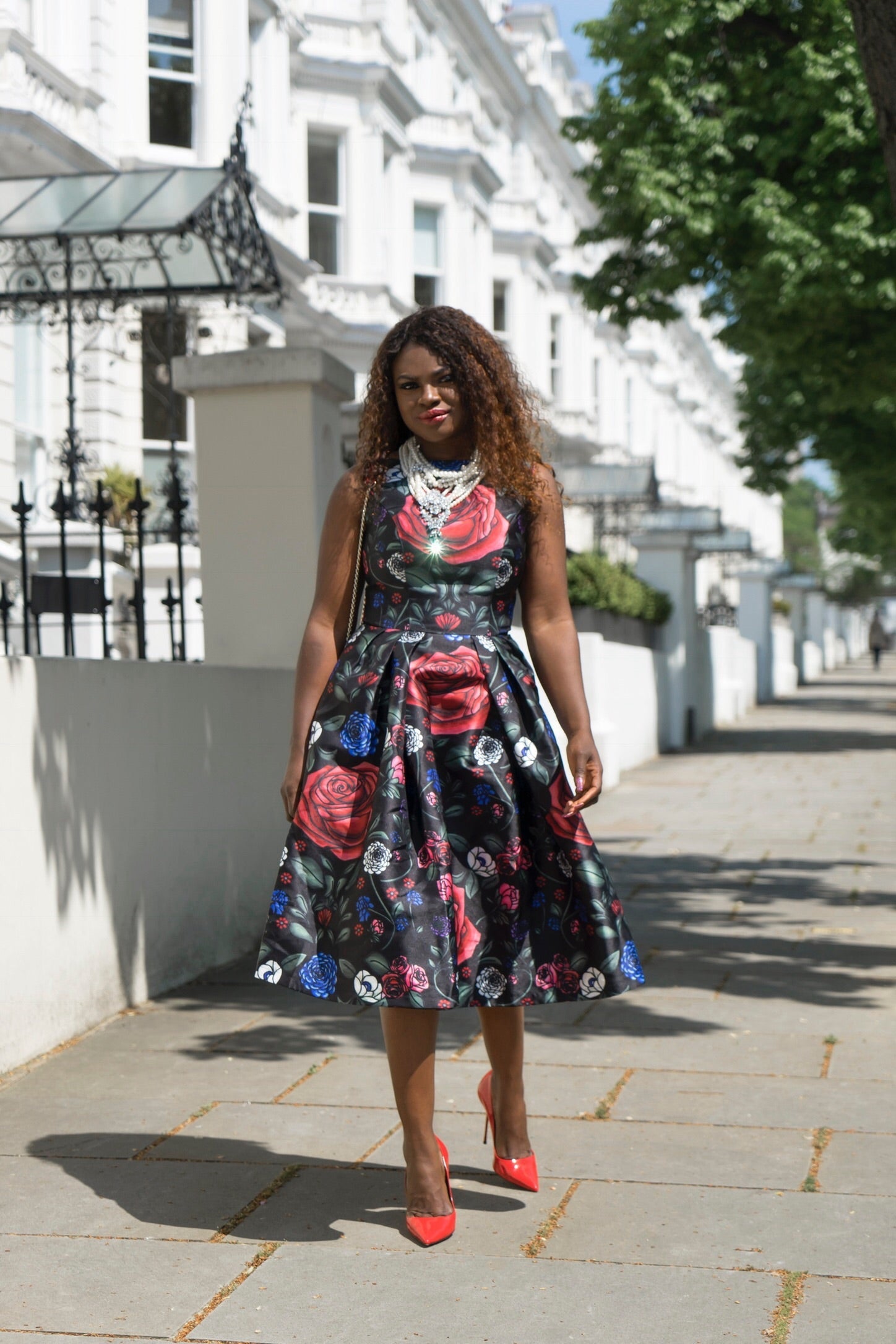 Pretty Floral Dresses
Pretty floral dresses are a must-have in summer. Besides, there're so many ways you can go with wearing one, from the 70s vibes to a more retro approach, to classic, to girly, to even casual and laid back. And they go great with heels and ballet flats. A blazer on top will look more classic. For a more sophisticated style chose a floral bomber jacket, or even a leather jacket.
For a casual chic Sunday look I chose a mid-length pretty floral dress, pleated, cringed at the waist, with red Kurt Geiger heels. A flat with this floral dress would have looked fabulous too. But you all know I love heels.
Floral dresses are a summer time given and Spring of course! They come out for weddings, they come out for the races, they are the go-to print, the signifier that the season has finally changed - but they can get stuck in a rut. It's all too easy to pull out the same petal-strewn dress time and time again or see the same genre of bloom-smothered prints staring back at you from the rails. So shake it up. You don't want to be rehashing last year's foliaged fashion and simply wearing floral dresses again. Take them out of the traditional "pretty" and "occasion-only" boxes and put them in one with a little more attitude and verve instead..
Floral dresses can quickly look old-fashioned and nostalgic. And that's lovely and appropriate on some occasions. It's very important how you pair your floral dresses and most importantly the style of the florals. It can be 3D floral or just a usual floral dress, whatever the style of florals use accessories that will make it pop not washed out. A brooch, a hair slide, a classic hand bag, or through decoration detail.
While I was putting on this dress I planned to pair it with black heels and a red handbag, but it just didn't look as good as it looked with the red heels. So the red Kurt Geiger heels took the cake. Dress is from here Heels from here Bag from here Pearl jewellery from here I hope you're able to find some inspiration in this outfit. Till my next post ...... Xoxo Ivy Ekong