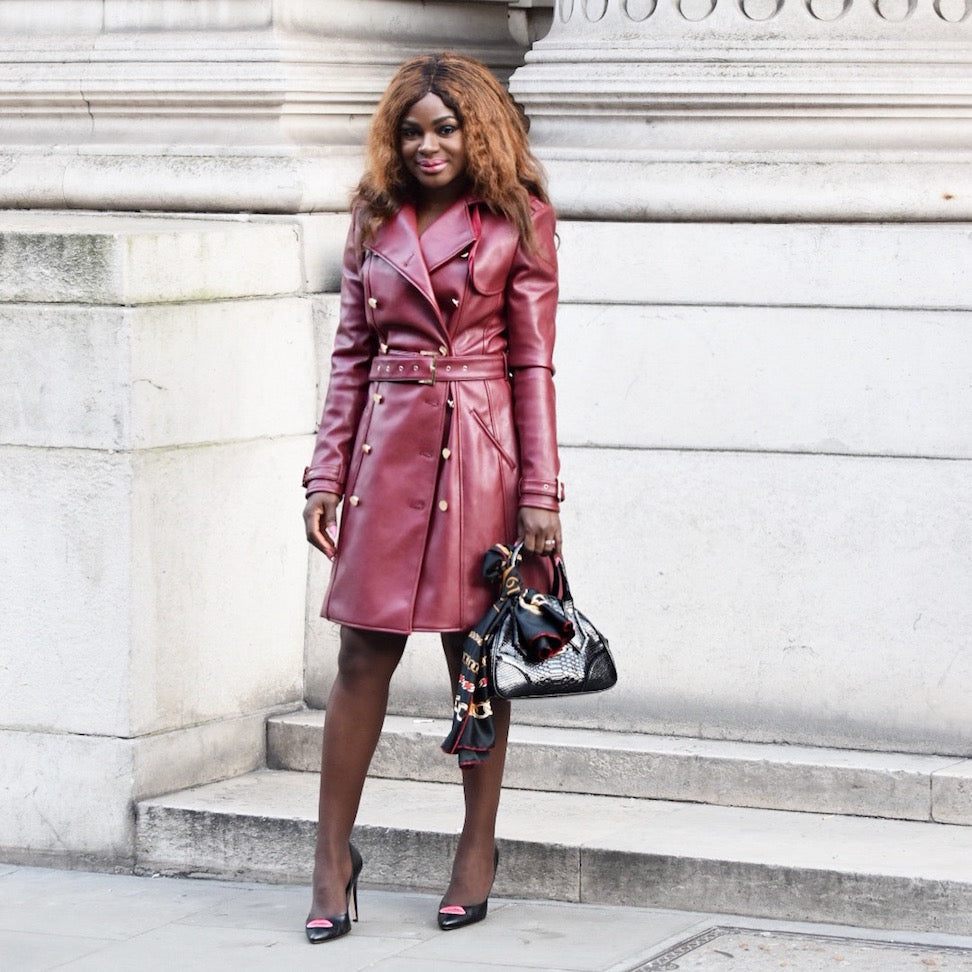 LFW 2017 Day One and Two Style Diaries
Happy Monday my loves!! You guys have been drooling over my LFW outfits on my Instagram page, and you all know there's no way I won't be doing a post about it here. I can't believe how incredibly fast last week went by. I can still remember going to my first show on Friday which was the @nsgaia  ( www.nsgaia.com) fashion show. Their pieces are amazing and very sustainable; I love the edginess of every pieces which appeals to most women including myself.
I met some amazing women and bloggers after the show.  It was also very exciting to see some of my followers and people who have supported me over the years. ( Too bad I didn't take any photos with them).
London fashion week is a very exciting period in the world of fashionistas and bloggers alike. Let's, talk about my outfit. For my first show I wore this red dress coat (to the @nsgaia ) show.
I love this coat because it's the perfect blend of cozy and chic, so I decided to pair it with my favorite pair of ankle boots from www.kurtgeiger.com new collection and my www.gucci.com bag. Believe it or not, coat dresses trend is in full-effect here at LFW this year and I'm loving it!! Full-length robe coats are paving their way on the runway this season.  I received a lot of compliments regarding this outfit and I hope you guys like it as much as I did.
For my second show,  I wore this beautiful www.houseofcb.com vegan leather jacket and my Gucci heels. I am starting to like red tones these days. What a coincidence that I wore red on both days. Fashion week was filled with some over the top outfits and styles. Most people looked like they came from some kind of fashion space or something  (in a good way though). I just wanted to be normal and still wear a normal ensemble, and I love  my combination of a normal yet very sexy, chic, and sophisticated outfit which I managed to pull together in all the fashion week madness.
I accessorised my  www.viviennewestwood.com handbag with a www.gucci.com scarf to give it more edge.
The other show I attended was the Dans La Vie AW17 show. Omg! I was blown away by this show. There were a lot of latex thigh high boots on the runway. When I say thigh high boots, I mean over the top thigh high boots. I totally enjoyed the show and would wear every piece in that collection. That's it for now my loves, I will update this site with more shows if am able to attend any today  as I'm a bit under the weather this morning . I would like to hear your thoughts, so please leave me your comments. Designers Image credits : @forwardprlondon (instagram) @notismagazine (instagram)   Xoxo Ivy Ekong