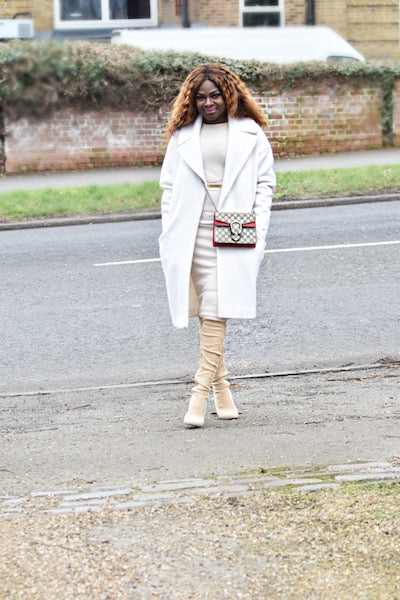 How To Ensemble Winter Whites
Today am sharing with you lovelies how to wear one of my favorite ensembles, winter whites; Don't we all love a crispy white outfit? I personally think that there's something about layering in all white that looks so clean, chic, and appealing. I constantly update my wardrobe especially every season of the year but my white classic pieces are the ones that remain timeless and I know I'll continue wearing them for many years. I love wearing white long coats, cozy sweaters, and denim, dresses. In winter, you can style them with boots and in summer with heels and sandals, whichever way you decide to style yours winter whites are a must have for winter. I've put together a list of 5 ways to wear your winter whites this season, with all the shopping links you need to find your favorite items!
 1. Combine Different Shades and Textures The secret to styling the perfect winter white outfit is by wearing cream, beige or off-white pieces together. You can try layering different textures like adding a textured jacket or cream/beige sweater which adds dimension to your look. The perfect outfit for me would be white or cream dress, white textured jacket, and a pair of cream boots. Another perfect outfit which I have worn during past winter is a white denim trouser with a ribbed knit and cream jacket- layering these textures will really play up your look and make it more eye-catching! Whichever you choose, they all work perfectly in the end as long as you stick to your neutral tones to create your winter whites. 2. Wear Contrasting Tones In order to achieve a balanced contrasting tones, pair simple your top and bottom in a simple way. Your blouse can be simple and can be paired with a denim or pant trouser. Play up your look by adding bold red lip and contracting tones such as black sunglasses, black hand bag, and nude pumps or even a pair of white snickers. A few contrasting accessories can add such edge and dimension to your outfit! Keep your winter white very minimalistic and that usually does the magic!
3. Add a Pop of Color Even though I have recommended keeping your look very minimalistic with similar tones, it doesn't mean that you should add a pop of color in the form of an accessories. Please do! Sometimes wearing all one tone or texture can make your look a bit flat, so adding some pops of color in your accessories or shoes can make your look more playful. Red or pink are two of my favorite colors to add in an all-white ensemble because they are really bold and eye-catching! Just make sure to add small accents of color such as a clutch, statement necklace, earrings, or heels and you're good to go! Winter whites are easy to pull off if you are able to get your color palette right. They are called the tone-on-tone color. Once your winter whites' colors are of the same tone, with a little pop of color in the way of an accessory then you should be fine.
4. Wear Tailored Pieces Whether you're going out to a brunch, office, or date night, wearing white tailored pieces will make your winter whites pieces look sleek, elegant and polished. To give your look proportion and balance, wear a loose-fitted blouse tucked into slim pants or vice versa. A white coat is also a must have for winter. If you don't have any yet, you better go get one. I have had this pair of white coat I got from asos for some years now and I can proudly say that it has greatly served its purpose. If you've been visiting this blog you would know that I have in the past worn this coat with almost everything, including, trousers, skirts, tops, almost anything.
5. Keep It Simple If you're really going for a head-to-toe white monochromatic look, then keep it simple! I always go with a pair of white jeans, white-tee or blouse and nude heels. Make sure you stick with one type of silhouette and combine similar fabrics. If you're feeling casual, opt for a pair of white sneakers to keep your style effortless and cozy. In summary, make it easy to spot the essence of your whole ensemble which is the ''winter whites''. My whole outfit is from www.asos.com Boots from http://www.kurtgeiger.com/ Bag is from http://www.gucci.com/