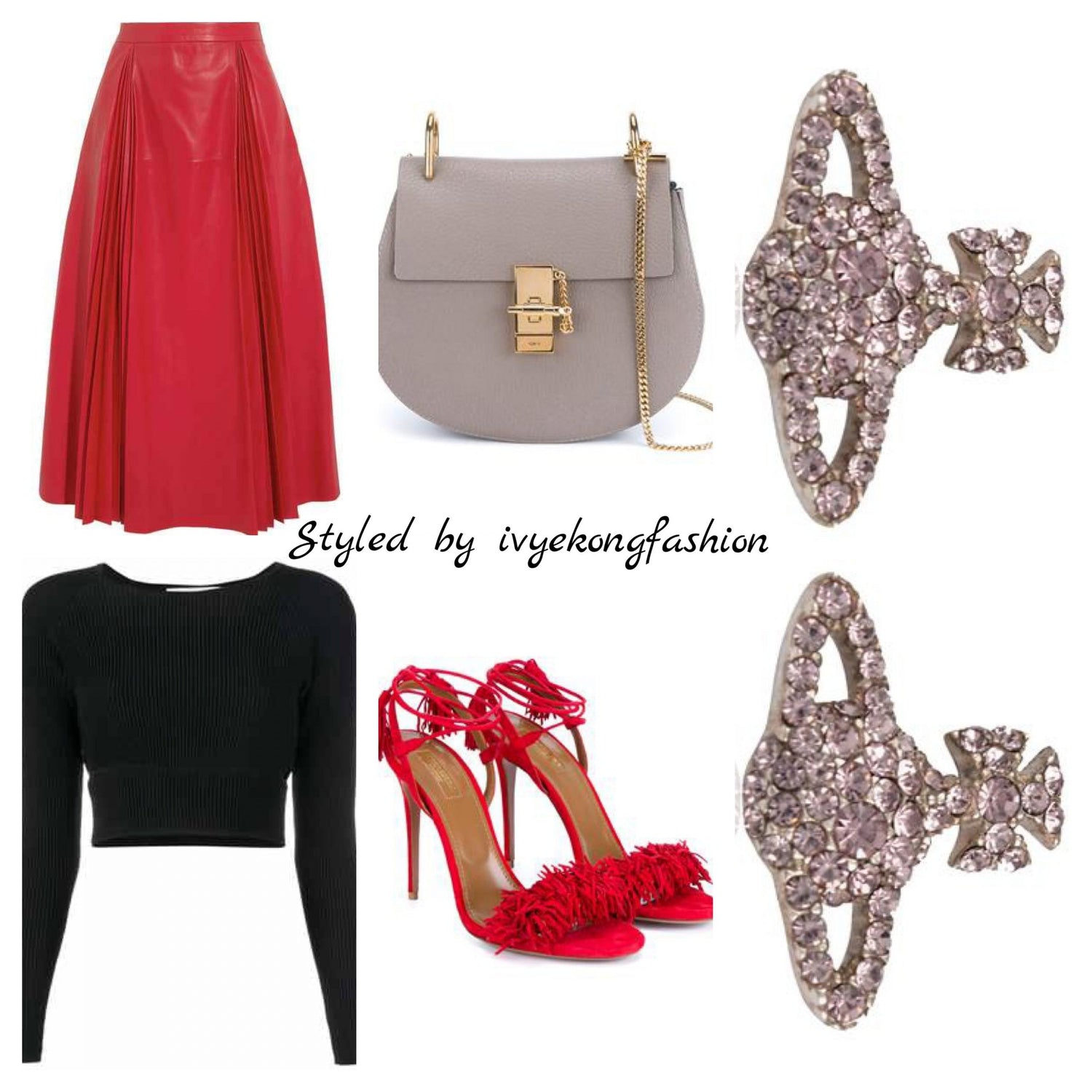 Different Ways to Style a Leather Skirt.
 This post is a bit late and I apologies. I have been so caught up in all the Christmas celebrations and I didn't get a chance tondo this post last week ? Pardon me guys. I got an inspiration to do this post few days ago when I went shopping at Westfield London. I saw a lot of women wearing leather skirts and leather pants, but there was one lady who stood out for me. She didn't quite coordinate her colours very well. Then it occurred to me that since it's the season for leather or faux leather, there might be some women who are struggling on how to coordinate their leather skirts and outfits in a more stylish way. The leather skirt is a classic, one of those items that we all have in our wardrobe. And there are so many styles you can make with it! The pencil leather skirt is definitely one of the most versatile styles of skirt regardless of its length so here are a few ideas to get you started on how to style your leather skirt.
 While the leather skirt has always been popular, it became really on trend this winter. If you look at the black fashion magazines in London, these skirts were everywhere and the great thing about them is the variety. Short, long, fitted or flared, all of these fulfil the need for leather. 
 One of my favourites is the high waisted pencil skirt with its flattering lines. I love to pair it with a bodysuit which complements the sleek look of the skirt and a luxurious textured material such as velvet is also a perfect match. If you like the shorter length better, this is ideal party wear and works perfectly with a glittery or metallic finish top. Add a pair of stilettos to make your legs look longer and you can also add a blazer to the outfit for those cooler night – even a leather one will work! As well as the pencil skirt, this season's trend also includes the slightly A-line styles and if you prefer a little movement, they might be a great option. Pair them with a three quarter length sleeve top that is quite fitted to contrast well with the looser style of skirt.
 The leather skirt can even style into a formal outfit of sorts when you combine it with a button down shirt and pumps. White works particularly well with a black skirt and you can even go sleeveless if your work environment allows it. Another element that works well with the leather skirt are the silky blouses and I think you can go as girlie as you want with them. Add in a glitzy necklace and a pair of simple earings for a smart look that hints at inner wildness. If you hate your legs bare, add a pair of tights or holdups under the skirt – there are some great patterns out there to match up with your style! 
 So what about those all-important accessories to finish the look? For starters, I love my bags and the big and bold styles work particularly well with the pencil skirts that I love. Bucket bags are great for the sleek and slender looks while a smaller clutch bag works great with the shorter styles. Even a small cross body bag like the YSL can work if you want something for the formal styles. With the pencil skirt, I love to wear stiletto shoes or ankle height boots. They add leg length and look very stylish but if you aren't a heels person, then ballet flats will work just as well. After all, it is all about finding what works for your style within any top trend. All the items featured on this post can be purchased here :brownsfashion.com Enjoy your holiday loves. Love Ivy