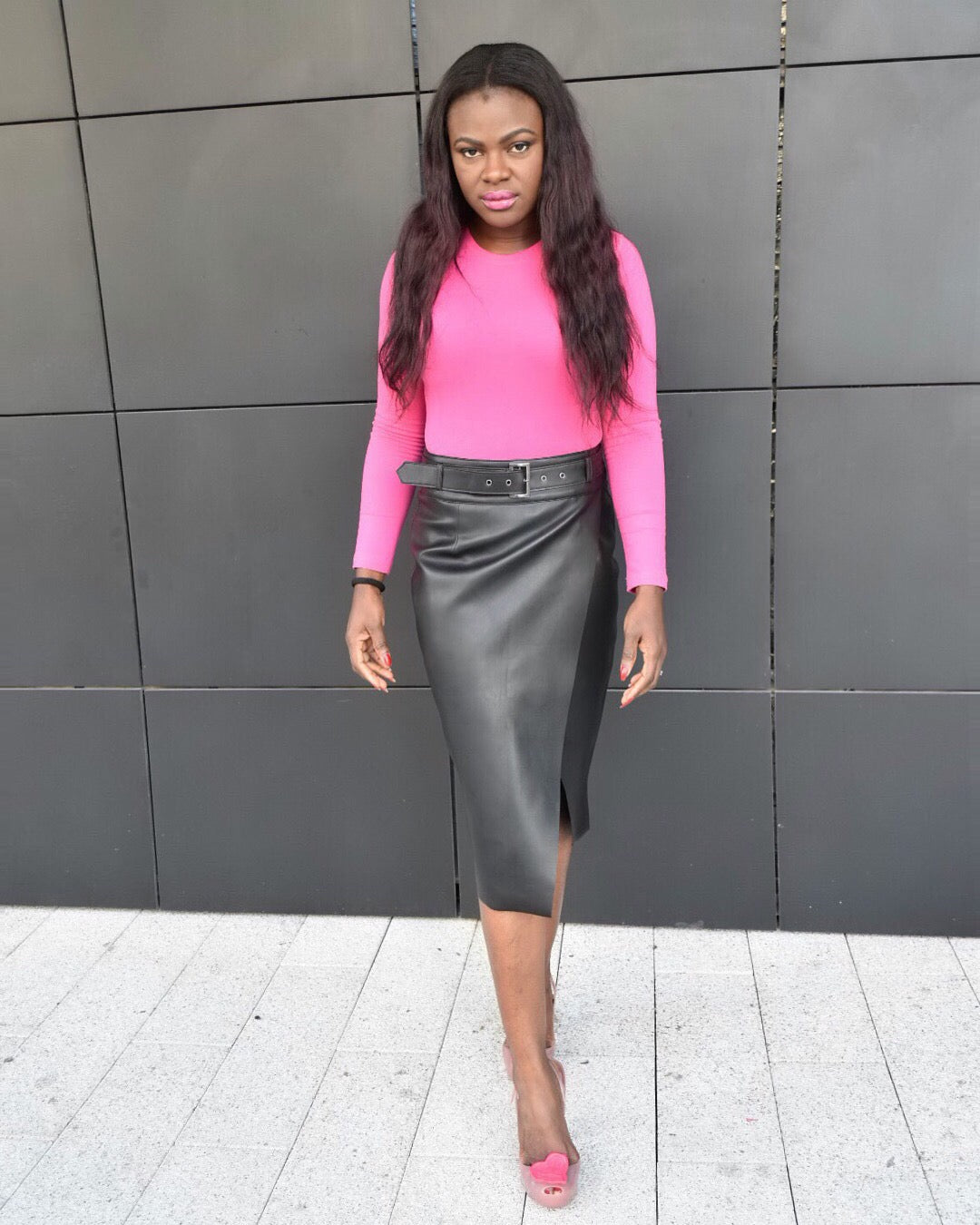 TOP TIPS ON HOW TO WEAR PINK
SINCE THIS TIME LAST YEAR, PINK HAS BEEN A MASSIVE TREND SPREAD ACROSS ALL THE BIG NAMES AND MANY OF THE SMALLER ONES
Everyone wants to wear pink or to add a touch of it into their outfit and when it comes to fashion it can be a little easier. But here are some top tips on how to wear pink.
 I LOVE THE CLASSIC COMBINATION OF PINK AND BLACK AND IT HAS ALWAYS PLAYED A BIG PART IN BLACK FASHION
In this case, I am wearing a pink bodysuit top in a brilliant, bright pink shade and a black leather skirt. Both of these are from ASOS, by the way. The skirt looks tight but its made from a subtle leather and has a satin lining to make it great to wear while the wrap design is flattering. Slim cut, it sits close to the body and has a zip back closure to make it easy to wear. The heels are from Vivienne Westwood and the heart on them matches the colour of the top perfectly. 
HOW TO WEAR PINK
For some people, the easiest way to wear pink is to keep it simple – just pink and only pink. Say you have a little black dress you love that always looks great on you and feel comfortable to wear – why not get a similar dress in a solid, bright magenta pink? Then there's no worries about matching up shades and tones or other colours. Just keep it all about the pink. 
 If total pinkness is a little too much for you, you can always tone it down with something pastel
Adding pinks together may not be the easiest match but a very pale pastel pink coat with that bright pink dress will work fine. Or you can add a shade such as cream or beige to it. One daring combination that won't work for everyone is pink and red – both big trends this year – but they can work together sometimes and on an African skin tone. A plain red dress with a patterned dusky pink coat is one example. Alternatively take bright red jeans and pair them with a coral pink top – this shade of pink is on the red side anyway so can be more harmonious than a magenta pink.

 Pink and black remains one of my favourite combinations and the contrast of the shades is perfect with almost any skin tone
Sheer black tights are an element coming back into fashion this year so if you have that pink dress and want to add some black, there's one way to do it. Another option is a favourite black bag with that dress or two piece. Don't forget that pink comes in many forms too – it doesn't have to all be bright and bold but subtle and pastel can work too. Soft pinks work well with soft blues or purples as well as white or cream shades. Pink and grey are good friends which also leads into silver for some sparkle ahead of the festive season. I hope you have been able to learn a thing or two on how to combine colours from this post. MODEL // IVY EKONG OUTFIT: Asos (skirt and top) Vivienne Westwood (heels) Love, Ivy.