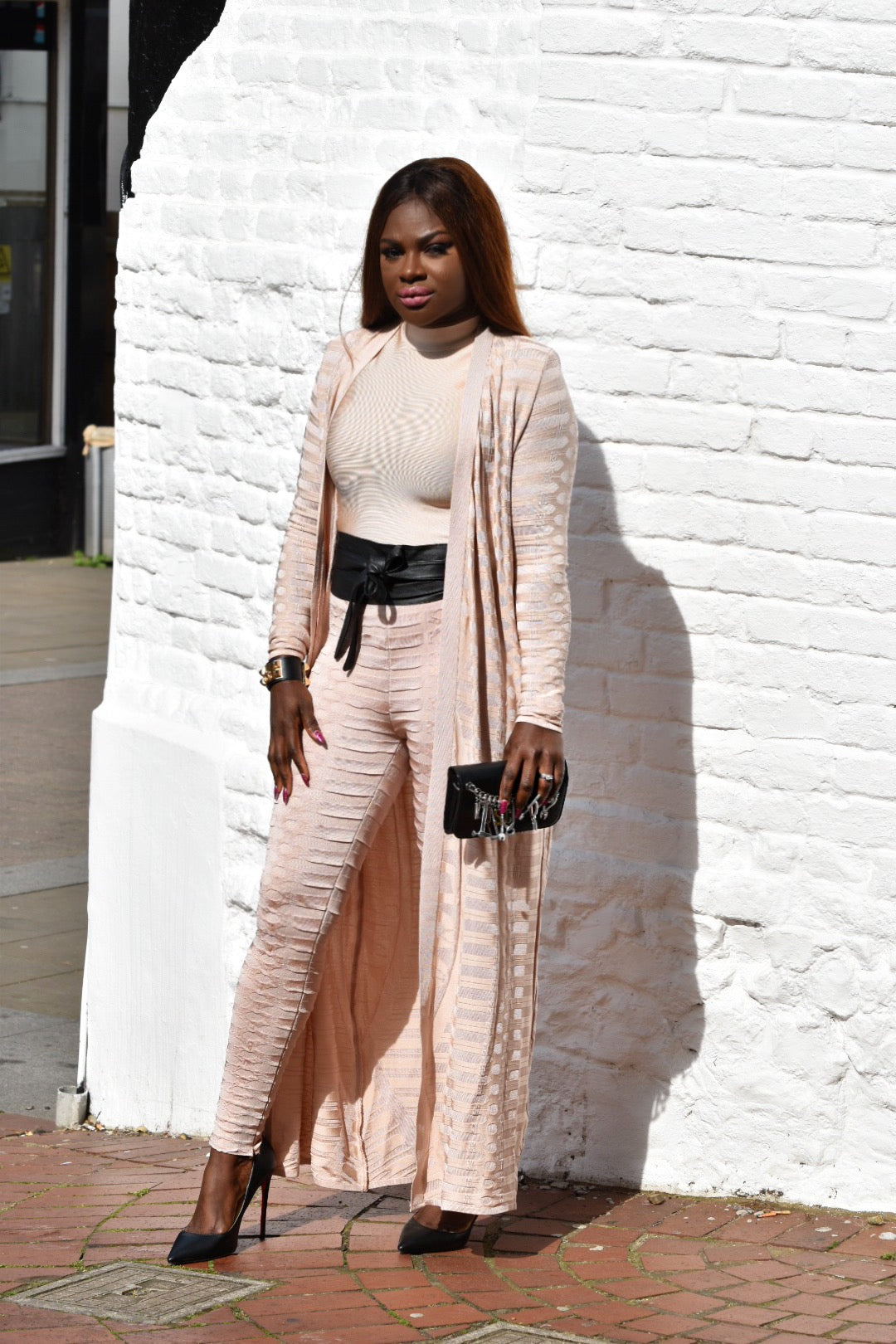 Nude Colour Ensemble - Why It Will Never Go Out Of Style
Is the nude colour ensemble here to stay? Get your bowl of popcorn ready! let's find out. Hello my loves! Today I am sharing with you how to rock one of my favourite looks, the nude colour ensemble, and prove why it will never ever go out of fashion. The nude colour ensemble is a timeless look which has been endorsed by our favourite celebrities and movie stars for years, and is known to be glam and adds understated elegance and sophistication to any outfit.
I love the nude ensemble so much that l made a lot of designs available in my online store. This two-piece is from my online store and can be purchased on ivyekongfashion.com ( search for two piece set)
Another reason I love the nude colour ensemble is that it compliments all skin tones beautifully, from beige hues to mauvey nudes and neutral palettes you are guaranteed to find one that suits your hair and skin tones perfectly. You can also adapt this staple look to suit any occasion, for a business meeting; pair camel flares with a nude blazer and pumps, you can add a pop of colour on your lips or accessories as a bold statement. The nude colour ensemble can also be dressed down for a casual brunch catch-up with skin tone thigh highs and a beige oversized shirt or even distressed denim to really compliment the look.

 
Nudes are extremely versatile; they can be of contrasting texture and tone and will always make a fabulous outfit. For a night out a beautiful textured three piece can be glammed up with stiletto heels and delicate jewellery to ensure you as best-dressed in the room. You can easily achieve this classic and elegant look with my YODA Nude Suede Three Piece Set, shop here. This is one of my favourite looks from my collection as it can be dressed up or down to suit any occasion, the quality material flatters any shape beautifully.
Nude is the new black. Nude is much brighter and feminine than black, perfect for this summer. It can be worn with all other colours and look great, it is just as versatile as black. All my basic day pieces I buy in black white and mostly nude as it's such a wearable tone. A full nude ensemble is neutral yet sexy and classy, subtle but always eye-catching. Kim Kardashian is of course huge style inspiration for this trend, she is the queen of the nude look! She plays around with all different shades, mixing with greys and khaki's to achieve a tonal look, silhouettes fitting like a second layer of skin. The nude trend has not only taken over fashion, but also beauty, with contouring and skin sculpting influencing the nude palette. For an everyday beauty look that says sophistication, using a nude lip with caramel colour eye shadow and a golden glow will work for any look, add lashes for extra glam.
Always choose nude shoes, try and match them to your skin tone to create an illusion of longer legs by creating an interrupted line on the leg. Whether it be suede pumps or strappy stilettos, even thigh high boots with a V cut to extend them further. This is a classic trick, seen on movie stars and celebrities for decades, you can pick up a simple, chic nude heel from most fashion retailers from Zara to my personal favourite; Christian Louboutin. The nude colour ensemble will never go out of style as it is easy and versatile yet elegant; I have added many nude pieces to my new collection, all simple to style. I would love to see how you ladies style my designs, to inspire me as well as others. As I always say there is no such thing as being over dresses, so why not go extra special with the Bradshaw Nude Tulle Skirt from my collection, it comes in a range of colours, including of course; nude. Here are some  nude pieces in my collection. Simply click on the links to shop.
I would love to see how you rock the nude colour ensemble, and for you guys to tag me in all your looks and of course how you style my collection. For more nude fashion inspo head to my Insta @IvyEkong and keep updated with my blog posts for more outfit ideas! While you're at it, read more post here, here, and here. Stay Fabulous! Love, Ivy