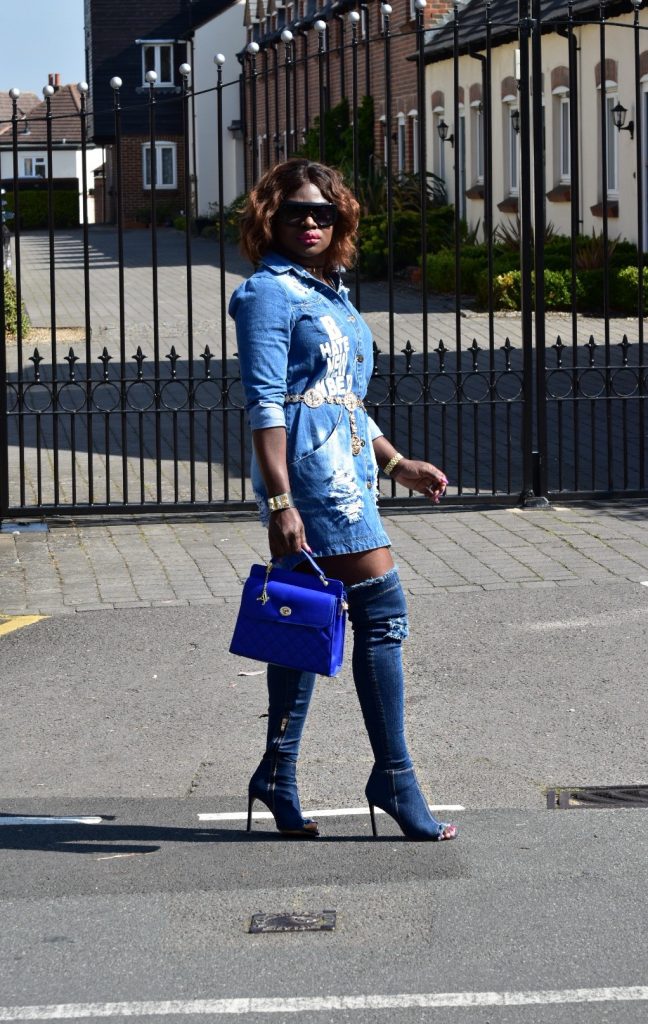 LONDON FASHION TREND: DOUBLE DENIM LOOK TREND
Double Denim is one of those trends that will always come in and out of fashion more times than anyone can remember. There are so many ways this classic combo can be achieved but the trick is to get it right, over the years I'm sure we have all had our bad experiences with the potentially dodgy-duo. However the double denim trend has taken the London fashion scene by storm lately, you may have noticed how popular this look was on the latest runway shows at London Fashion Week. Double denim can be done in so many different ways, denim boots are a huge trend this season, adding a new dimension to the classic look. Try pairing with a denim shirt or accessories, distressed denim and raw edges are hot right now!
The best thing about the double denim trend is that you don't have to stick to the same wash of denim, mix and matching your double denim is a sure-fire way to look glam!  Denim jeans are a wardrobe staple which everyone should own, my favourite cuts of the moment are flares, boot cut and of course the timeless skinny jean. 70's denim flares can be paired with an oversized denim jacket for a daytime look, I'm feeling huge 70's vibes this season and it's all over the London fashion scene.
Shop similar to mine here https://www.publicdesire.com/rhiannon-peeptoe-over-the-knee-boots-in-dark-denim Another reason I love denim is its versatility for all different occasions, for a casual double denim look try distressed jeans with denim mules and an oversized shirt, the perfect look for a lunch date. Denim can be dressed to the nines, whether it be a beautifully fitted denim jumpsuit or a stretch denim dress, you can look super glamorous pairing your double denim look with a diamond choker and bold red lip. You could even smarten up your double denim to wear to a work conference, matching a tight denim skirt with smart denim boots, you'll be sure to look like a pro. I love revisiting the idea of denim as an evening wear fabric, denim dresses are a go-to this season, anything from fitted mini dresses to a floor length ruffled gown, you are guaranteed to find a red carpet worthy piece made from the popular fabric.
This season's colour palette is swarmed with pastels and girly colours with lilac hues, baby pinks and mint greens, all make beautiful combinations when paired with a light wash denim. Fine details; embroidery, sequins, beading and ruffles make a gorgeous contrast against distressed frayed denim pieces for a chic look. Embroidered denim is sought after at the moment and can be seen all over London, whether it be jackets, jeans, shirts or even accessories, this trend adds a young feel to any outfit, you can DIY this look by using embroidery patches. Don't limit your style to denim jeans; all styles are available in denim from outerwear to accessories. If you are aiming to achieve a subtle double denim look, why not pair your favourite piece with a denim bag, I am totally feeling them right now, here are a few I've found which I think could compliment any outfit:
Figure 3: http://www.selfridges.com/GB/en/cat/rebecca-minkoff-m-a-c-mini-denim-cross-body-bag_133-3003039-HSP7EPAX01/?previewAttribute=Light+denim
https://www.mytheresa.com/en-gb/falabella-denim-shoulder-bag-721986.html?gclid=CjwKEAjw3drIBRCOwfC-_qqyjQ8SJADvoWQpo3DZ38TtC5xUxs9fjY9tK_aYiYU98zGkHAL8yS118hoC59nw_wcBB As always I would love to see how you style your double denim look, tag me @IvyEkong in your Instagram posts and keep updated with mine,  and also my blog to see more ways I style this look and of course other London fashion trends you can incorporate into your style. I wish you all a beautiful week ahead and hope I have inspired you to rock the  denim on denim trend your own way this season! Love Ivy