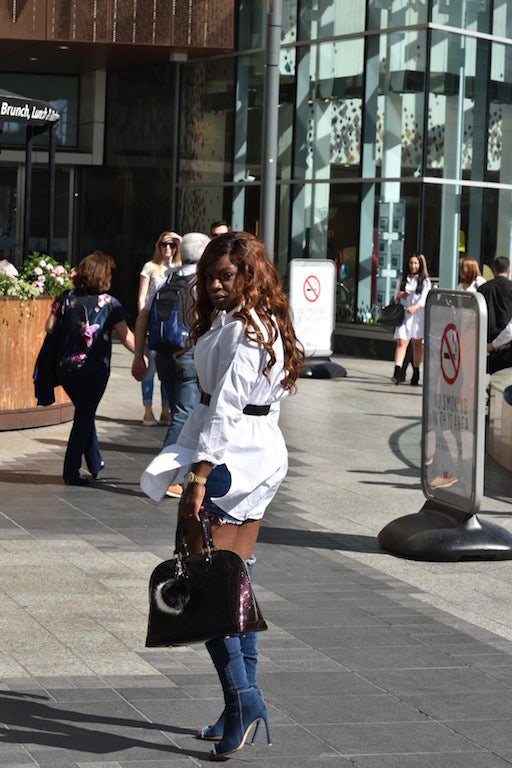 Denim Thigh High Boots Trend: How To Rock It Like A Pro
Denim thigh high-boots are a wardrobe staple and can be adapted to suit any look, denim is a must this season and the two combined = the perfect summer shoe!  I have always been a fan of thigh-high boots and they have been wavering in and out of fashion for decades. As chunky boots are slowly disappearing from the spotlight, new elegant fitted styles are becoming extremely popular, I love wearing boots that fit my legs like a pair of gloves and feel this is a much more flattering style as it elongates and slims out the legs.
Thigh-high boots are a subtle way to add sex appeal to any outfit yet still keeping it classy, there's something slightly promiscuous about revealing the upper thigh. They are so versatile and can be worn all throughout the year, especially for battling the cold during winter months. Thigh-high boots give you the freedom to wear short skirts and dresses throughout winter without feeling the cold; I love this look when paired with a long duster jacket as I feel it adds a sophisticated vibe.
Thigh-high boots can be styled to suit any occasion, you could pair them with a loosely fitted shirt or over-sized sweater for a casual day-time look, or glam them up for a night out with the girls by pairing lace up thigh-highs with a bandage dress to turn heads. If you're new to the thigh-high boots trend I would definitely recommend finding your perfectly fitted pair in a simple black, easily adaptable to any outfit, before you branch out to colours, details and exciting fabrics. You can look elegant yet professional by pairing your statement boots with a clean-cut blazer and loose blouse for a work-wear look.
Hop on the double denim band-wagon which is taking over the London fashion scene (read more here  with a lot more than a denim jean and shirt combo, experiment with new styles of denim dresses, jackets and accessories alongside your knee-high boots. I styled my distressed denim knee-highs with a cute distressed denim shirt dress for a summery look with a bold blue handbag and waistband to accentuate my waist and add a feminine feel to the look. I am loving distressed denim recently and can't get enough of raw edges and rips for a casual look. Denim is such a versatile fabric as it is available in such a wide range of washes and weights it can be worn all year round and can work for any look, sure to never go out of fashion.
For a super summery alternative, try a lace up denim thigh-high sandal paired with a simple black mini dress, you dont want to draw attention away from the shoes! I love anything lace up at the moment especially on the legs, it is extremely flattering and also edgy yet sophisticated. Although we're all hoping for a scorching summer this year, don't exclude thigh-high boots from your summer wardrobe as they could just save you from the unpredictable British weather. Many celebs have been rocking the denim thigh-high boot trend this season such as; Rihanna, J-lo and the Kardashian klan. My favourite look is by Kylie Jenner who braved triple-denim pairing her leopard print embossed denim thigh-highs along with distressed denim shorts and an over-sized denim jacket, major style inspiration for this bold new trend.
I hope you've all enjoyed this post and found a way to wear your denim boots or if you don't already own this wardrobe staple to go out and purchase a pair! I'm sure I will be featuring my denim thigh-high boot on my blog or Instagram again soon as I think they are my summer 2017 shoe. Tag me in your thigh-high looks; I always enjoy appreciating other people's take on my favourite styles and trends. I wish you all a humble weekend! Love Ivy