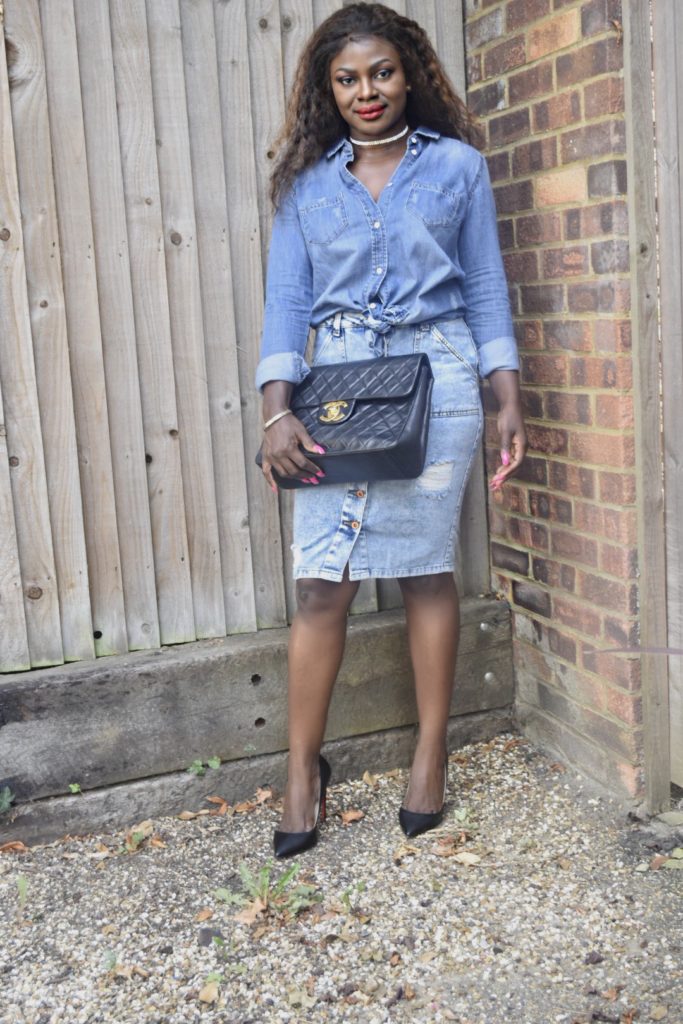 HOW BEST TO ROCK DOUBLE DENIM OUTFITS
The double denim trend has not been given the attention that it needs. Its different and unique from the fashion status quo. When well pulled together, a flawless chic look can be achieved. The ultimate principle one should bear in mind to achieve the perfect look is to be conscious of the various shades or washes of denim, ranging from white, grey, faded blue, dark blue and black. Other colors exist but these colors from experience are the best to work with to accomplish a cut edge and mature look. Denims come in jean, skirts, shirts, jackets, dungarees and even accessories like shoes and bags.
The fitting and shade of the denim are of primary importance in picking out denim to wear. Denim is most flattering when the pieces fit because they accentuate the body. In the case of a jacket, the fitting should be a little bit short, just above the hips so that under shirts can easily be displayed and this can serve as a means to add a pop of color to the outfit. Oversized, ill-fitting denim pants or skirts are lazy looks and they don't look pleasing to the eyes, but in some cases, a well fitted jean or skirt can be paired with an oversized baggy shirt to give off the tomboyish appearance. This look is bold and daring and is something I'd most likely find Rihanna wearing.
Shades are really important and managing this trick well enough would almost never make you commit an offense with the fashion police. As stated earlier, denim comes in several washes and this gives room to combine different denim shades. For me, the best way to slay a double denim outfit is to pair a light blue or faded denim top or jacket with a dark colored denim jean. As an elementary rule, lighter colors attract attention while the darker colors tend to be slimming. This principle gives the illusion of having perfect body proportions. That been said, we cant stop our creativity just there, we could also try it the other way around and pair a darker color top and lighter color jean or denim skirt. Know your body figure and put your mood into consideration when choosing how exactly to wear the double denim outfit. Exceptional cases of pairing the same shades is with black jean and a black top or jacket because ultimately there's no non-flattering way of wearing black. Another way to slay the same denim shade is to accessorize the outfit with pop of colors for a bold daring look or with neutrals for a more calm look.
Some extra points to bear in mind when making a choice of double denim outfits is that, it works well with any body shape and skin color, so do not be discouraged to try out this trend. Denim skirts can also be used to create a chic, flawless combo. Denim skirts and tops are not as common but they also give a flattering figure to the body. Ladies that feel more comfortable with skirts or simply want to do something different can try the eye catching double denim with a denim skirt. The same principles of fitting and shades apply. Be adventurous with this trend. One way to add an edge to the look is wearing ripped jeans. You can never get enough of this trend. It goes superb with virtually any outfit. Ripped jeans are of longevity and always stay fresh in the fashion world. So do not be afraid to try the combo with whatever kind of ripped jeans you may have tucked in your closet. Once in a while, roll up the sleeves of the jean or top, it adds an edge to the whole look. Another classic way to style double denim is to tie a shirt, denim or not depending on your choice of outfit, around your waist. This a lazy simple way to rock the outfit. Some people like to play this outfit with shorts, which is alright but when wear denim shorts they shouldn't be too tight, loose fitting denim shorts serve as best and they prevent your bum cheeks from been exposed.
Accessorize the double denim outfit with bangles, or a neckpiece to give an extra flair to the whole look. Depending on the occasion, tote bags or clutches work well with the double denim combo. Shoes accentuate the outfit. Try out court heels, trainers, high boots and gladiators with the outfit to achieve several fashion statements. You can choose to keep things simple or switch things up with accessories. Double denim is a street style and celebrities and fashion icons have been trending this look. Celebrities like Rihanna, The Kardashians, JLo and Kanye rock this outfit. The outfit is fun to wear and whenever you feel discouraged, think of the cowboys and how they really sell the double denim with confidence and style. Their cowboy boots and hats are also nice accessories to pair with the outfit. These tips should keep you safe from the clutches of the fashion police. In all, have fun piecing the outfit together. I would love to know how this has helped you style your outfit. Leave your comments and let me know. Have a lovely week my loves. XOXO IVY EKONG