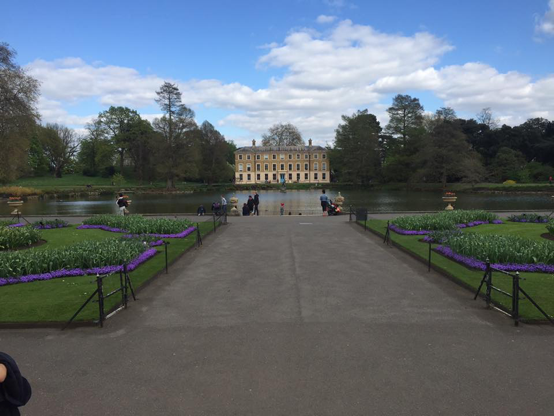 London Summer Events Fashion - Art, Food, Event/Exhibition To Attend This Summer
London is beaming sunshine!!! It's nearly summer time, which means the kids breaking up from school and hundreds of exciting events are popping up around London to help you keep them occupied, along with exhibitions and ideas for day-trips with the girls. We  have put together a list of fashion, art and food events taking place this summer in London which we recommend attending.
Perfume: A Sensory Journey Through Contemporary Scent. 21.06.2017 Somerset House, London The Thameside arts institution will be hosting an olfactory extravaganza this summer, bringing together a number of contemporary perfumiers who are pushing their scents in new, exciting and occasionally rather whiffy directions. Within the show there'll be a perfume laboratory, where visitors can not only see various fragrances being made, but also concoct their own. From Selfie To Self-Expression Until 30.05.2017 Saatchi Gallery, Chelsea, London This exhibition shows the evolution of societies most used style of photography, from old portraits to the modern-day posing of Kim Kardashian. The Saatchi gallery always host all manner of exhibitions and are always free, and in a great area to hit the shops. Cerith Wyn Evans: The Tate Britain Commission 2017 Until 20.08.2017 Tate Britain, Westminster, London I have always been a fan of the installations by artist and sculptor; Cerith Wyn Evans. I previously saw an exhibition in the Tate Liverpool featuring some of his works, interestingly his pieces always consist of the use of light flashing messages in morse code. The exhibition is set to be a beautiful sea of neon lights featuring some of his latest works.
Bloomin' Jewels Until 03.06.17 Contemporary Applied Arts, Southwark, London Forget visiting the crown jewels; Bloomin' Jewels boasts modern jewel work including floral motifs. Showing the work of over 20 respected jewellers with contemporary cutting-edge work, throughout the exhibition there are talks and events taking place, perfect for a day-out with the girls followed by an afternoon tea. Read my guide on how to look chic for an afternoon tea along with the best tea rooms in London. Soul of a Nation: Art In The Age Of Black Power 12.07.17 Onwards Tate Modern, Bankside, London An art exhibition shining light on the vital contribution of Black artists to a dramatic period in American art and history. Show-casing works from the beginning of the civil rights movement in 1963 to modern day. Speciality and Fine Food Fair 03-05.09.2017 Olympia, London An event show-casing a huge range of fine food suppliers and producers, this event is packed full of workshops and live cooking demonstrations such as; chef demos, great tastes of Deli and a speciality chocolate trial. Taste of London 14-18.06.2017 Regents Park, London A 5 day festival held in Regents Park, celebrating music, food and live entertainment. A great event to visit with family or friends, featuring tastes from all kinds of cuisines around London, to help give you a proper guide of London food. Yoga & Coffee Morning 03.06.17 V&A Museum, Knightsbridge, London Join Yoga instructor Aoife Espinosa for an hour long Dynamic Hatha Yoga session suitable for all levels of experience before the doors open to the public before enjoying a specially created tour of the V&A collections to get your weekend off to the best possible start. Kew The Music 11-16.07.2017 Kew Gardens, London A glorious week-long festival of summer picnic concerts set within the stunning grounds of the Royal Botanic Gardens. I would highly recommend visiting Kew gardens around the event as it is hard to take in all its beauty in one day, spamming across 300 acres, you can also take the Kew Explorer land train for a guided tour of the land.
Eat Drink Ealing 01-02.07.2017 Ealing Common, London The latest edition to a successful series of summer events across Ealing, Eat Drink Ealing will not only satisfy your tummy but are also hosting live music, kids play areas and relaxing spaces for visitors to sit and soak up to atmosphere (and hopefully sun). The World of Anna Sui 26.05.2017 – 01.09.2017 Fashion and Textiles Museum, London Highlighting the works of the classic American fashion designer, her signature rock-n-roll romanticism reinvents pop culture for every new generation. The exhibition features over 100 looks from the designers archive, this is the first time an American designer has been the focus of a retrospective exhibition in the UK. I hope you decide to attend at least one of the events on my list, and I would love to hear your summer day-out recommendations. I wish you all a splendid and prosperous week and urge you to keep updated with my blog as there are exciting things ahead. Love Ivy Content compiled by Martha for Ivy Ekong Fashion