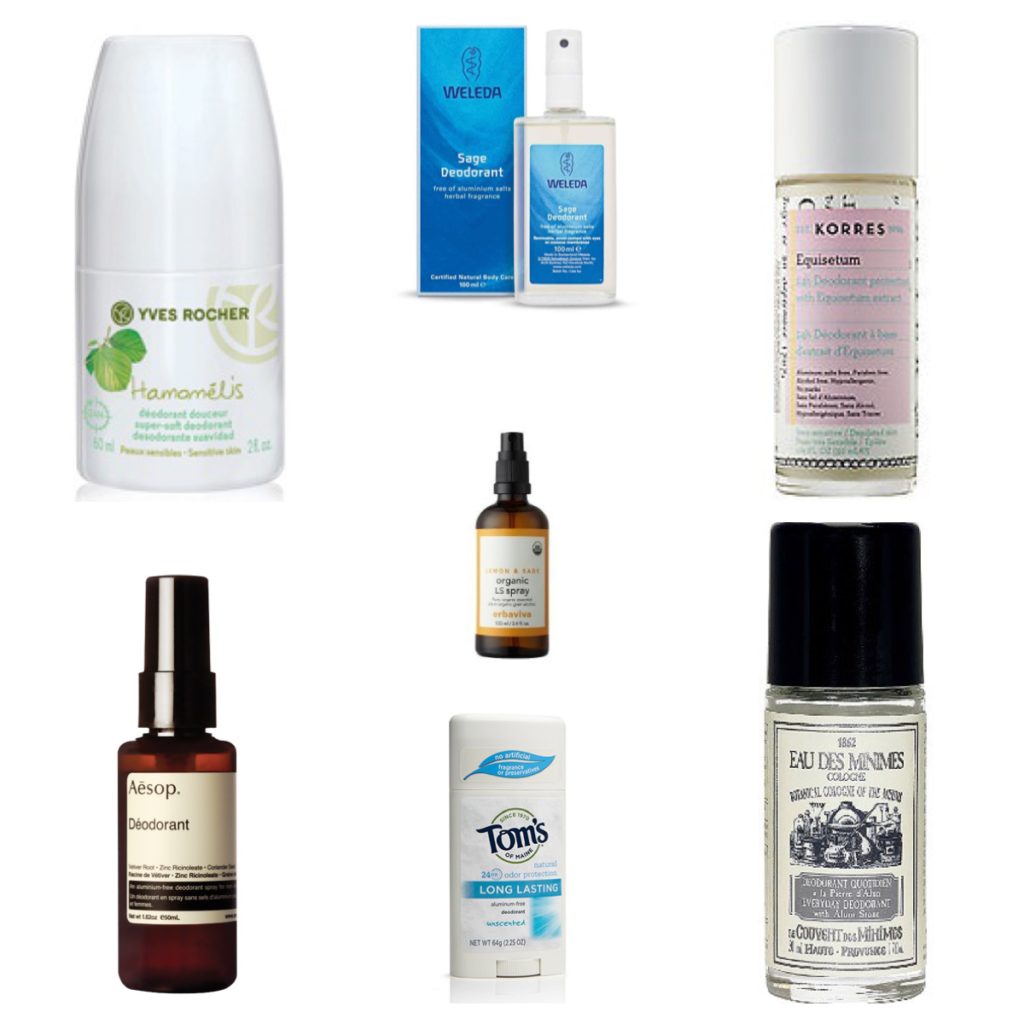 Recommended ALUMINUM FREE DEODORANTS
Deodorants have made the list of most searched beauty product. With so many of us opting for beauty products sans harsh chemicals, it's no wonder that deodorant has finally made the list. But before we understand what to look for in a deodorant, it's important to know the difference between deodorant and antiperspirant.
Deodorants are meant to neutralize odor by killing the bacteria that causes it or by simply masking it. Antiperspirant, on the other hand, block the sweat glands in order to prevent perspiring in the first place. The problem with many antiperspirants is that they contain harsh chemicals like aluminum, which absorb into the skin and may have negative effects on your health. Some claims state that aluminum can increase chances of breast cancer and Alzheimer's, yet there are many other studies that suggest otherwise. Since there is still a lot we don't know about the effects of aluminum, it's understandable that many of us are going the natural route to avoid these harsh chemicals all together. The first step in opting for an aluminum-free deodorant is making sure you're actually selecting a deodorant rather than an antiperspirant. Luckily, there are plenty of deodorants that are truly effective without using harsh chemicals. Here are the top 7 aluminum-free deodorants we recommend!
1) Tom's of Maine Long Lasting Natural Deodorant The most popular aluminum-free deodorant is Tom's of Maine Long Long Lasting Natural Deodorant because of its scent and effectiveness. The product uses a mix of botanicals, sage, and lemongrass that combats odor without being harsh on the skin. You can buy yours here
2) YVES ROCHER DEODORANTS YVES ROCHER offers a selection of mild and skin friendly deodorants that contain no allergenic frangranvew and are dermatologically tested. The Yves Rocher deodorants are free of aluminium compounds. You can buy one here
3) Weleda Sage Deodorant If you're a fan of essential oils and their many positive effects, give Weleda Sage Deodorant a try. It combines sage, lavender, rosemary, thyme, and even licorice root extract to create a formula that neutralizes odors. Best of all they are chemical free too. Sold here
4) Korres Equisetum 24h Deodorant This popular deodorant contains a unique ingredient called equisetum, a grass-like plant, which naturally combats odor. It also uses corn derived starches to give you that powder fresh feeling you often get from antiperspirants. Buy here:
5) Aesop Deodorant For those of you interested in something a bit more high end, Aesop makes an excellent deodorant containing a mix of lemongrass, clove, and vetiver root that inhibit the growth of bacteria. The product comes in a spray form and is suitable for both men and women.
6) Erbaviva Lemon Sage Organic Deodorant Not all natural deodorants are certified organic, so if this is a priority give Erbaviva a try. Its unique combination of organic grain alcohol and essential oils (including tea tree) fights bacteria and odor effectively. Sold here
7) Le Couvant Des Minimes Everyday Deodorant If you have a strong preference for roll-on functionality, Le Couvant Des Minimes Everyday Deodorant is the way to go. With its original formula of alum stone (a natural deodorant) and a slew of essential oils, this option has a lovely citrus scent great for everyday use. https://www.amazon.com/Couvent-Minimes-Everyday-Deodorant-Stone/dp/B00AAEM4L4 What's your favorite aluminum-free deodorant? Your thoughts? Xoxo Ivy Ekong